Tucked away in historic Franklin, Ohio, Stone Valley Meadows is the premier event facility of your dreams. Nestled on 13 beautiful acres overlooking the valley, your guest will experience the beauty and elegance of all that Stone Valley Meadows has to offer.
A custom barn inspired by nature, boasts of panoramic views, a bridal suite complete with a private deck, a groom's barn and a covered porch made for sunsets. The 11,000 square foot, air conditioned facility, soaring with 35 foot ceilings, is lined with three custom copulas and windows galore, providing an abundance of natural sunlight.

Stone Valley Meadows provides access to an outdoor space complete with a silo and barnyard garage. The garage houses a vintage model T that is available for photographs. Our luscious meadow Is surrounded by trees, providing a picture-perfect setting for an outdoor event.

Centrally located in southwest Ohio between Cincinnati and Dayton, out of town guest will have access to hotels, restaurants and shopping amenities. Stone Valley Meadows is conveniently situated two miles from the highway and is the perfect location for all of your event needs.
We have considered every thought and detail when it comes to your perfect day! We can't wait for you to take a look around! 
Stone Valley Meadows provides an unforgettable barn experience in a timeless setting complete with old world rustic charm and a touch of modern sophistication. The Main Barn features inlaid barn wood with reclaimed flooring. Guest will marvel when they see the custom bar designed to highlight the natural elements and subtle splendor of reclaimed wood. Chandeliers adorn the soaring 35 foot ceilings creating majestic ambiance for your special day.

Every detail of the custom design and construction of the Stone Valley Meadows Barn will ensure your day is one not to be forgotten. Crafted from heavy timber, the Main Barn is adorned with exposed rafters and includes a heavy timber staircase that descends from the bridal suite. The barn will naturally enrich the anticipation for your long awaited entrance. You will be escorted through carefully curated barn doors and led toward the picturesque view overlooking the magnificent valley. This scene will serve as the backdrop to your wedding ceremony. The Main Barn can accommodate up to 280 seated guest in the main hall and an additional 75 guest in the lounge, providing ample space for you and your guest to dance to your hearts contentment.

Every amenity has been provided to ensure that you and your guest have the experience of a lifetime. Rest rooms are conveniently located off the main hall and were designed using restored tin and forged metal from a traditional barn roof. The fully air conditioned space has three 10 foot ceiling fans to make sure everyone is comfortable in the summer. A coat closet and a fireplace in the lounge will help guest forget the winter weather and bask in the moment of your forever.

The Main Barn is fully equipped with audiovisual support to allow for the personalization of every detail. Surround sound speakers have been installed to ensure that your guest enjoy the musical selections and the ceremony no matter the location. Television screens are available in the main hall and lounge areas so that guest can view your video and photo montages throughout the event.
Stone Valley Meadows has thought of every possible detail for the big day including a space created with the Groom in mind. The Groom's Barn is a free standing and constructed with the same rustic charm that distinguishes Stone Valley Meadows. A separate yet relaxing space, the Groom's Barn boasts of a private restroom and shower, a loft, and direct access to the meadows with all the desired amenities. The main floor features a billiard table, vintage video games and a custom bar with a mini fridge. The second floor features a loft, equipped with televisions, surround sound and a deck. The groom's barn will entertain young and old alike. The groom and groomsman can enjoy up to 15 hours in this space.
A perfect location for the outdoor ceremony of your dreams, the natural Meadow offers privacy and seclusion in a space designed to celebrate your big day. Completely encased by mature trees, the meadow provides shade and tranquility allowing you to embrace the beauty of nature as you pledge your love to one another under the custom pergola constructed of the same remarkable heavy timber.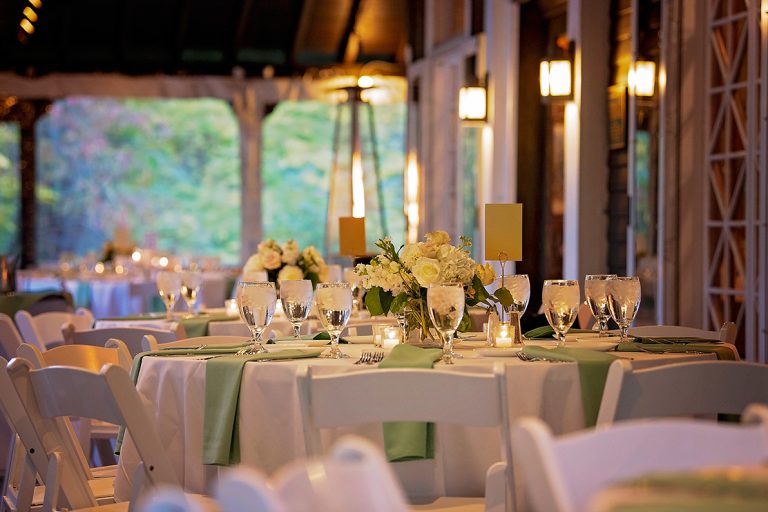 Milford
CAPACITY : 250
LOCATION : Milford